Top 3 Most Popular WapTap Creators Right Now
WapTap is full of exciting content creators who love sharing their naughty & explicit clips with their loyal fans. But some models are more popular than others. Let's take a look at the top 3 WapTap creators who have turned the platform into their R-rated playground.
#1 tiannaann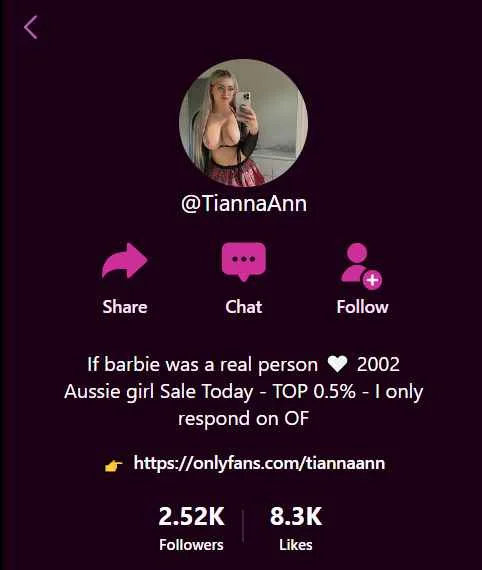 BIO:
Have you ever wondered what would've happened if Barbie came to life and became an adult content creator? Oh, and if she was from Australia? Probably not, but @tiannaann fits this profile perfectly.
Tianna Ann is an Aussie phenomenon that has taken the world of adult content by storm. Why? One look at her should be enough to answer that question.
The blonde bombshell is a full package, with juicy breasts, shiny blonde hair, a stunning body, and curves in all the right places. And to the great delight of her loyal fanbase, she loves putting herself on full display.
Her WapTap page is full of explicit videos, including B/G sex tapes, solo fingering & toys, and sexy teases. That's right. This Aussie goddess certainly knows how to please her fans.
But while her WapTap page is all one needs to know about the Aussie Barbie, her paid OnlyFans page is a whole new domain of pure carnal pleasure. This is where she interacts with her fans, rating guy's peckers, sending juicy sex texts, and posting personalized explicit videos. For the right price, of course.
Her WapTap profile obviously doesn't offer the same level of interaction or content selection. It's still full of exciting clips, though, displaying what the Aussie Barbie is all about. They have one advantage, though. They are available for free.
So, are you willing to become this slutty Barbie's Ken? If yes, subscribe to her WapTap free profile today to enter her R-rated Barbie World. Be careful, though. Once you enter her domain, you won't be able to leave. Watching this Blonde bombshell satisfy her horny cravings is simply hypnotizing.
#2 bonn1ethebunny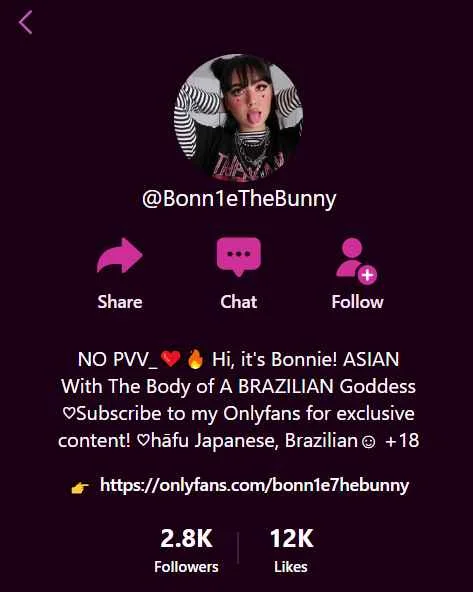 BIO:
Bonn1ethebunny, aka Ms. Bonnie, has quickly become one of the most famous performers on OnlyFans – currently in the top 0.1% worldwide. So, when she entered the WapTap domain, we knew it wouldn't take long for her to become one of the leading creators here, too.
Well, we weren't wrong. The Japanese/Brazilian bombshell has taken WapTap by storm, posting explicit and juicy content her fans simply adore. But there's more to this spicy babe than just her mesmerizing body and hypnotizing curves. She's also an avid cosplayer!
That's right! The girl loves to put on a sexy costume, which she can later slowly pull down in a sensual striptease that will make you gaze in awe as you watch her show all the dirty secrets of her incredible body.
And yes, all this is available on her WapTap page, entirely for free! You'd have to subscribe to her paid OnlyFans page for more personalized content. This is where she interacts with her fans, posting full-length and customized videos. The full e-girlfriend experience is pricy, but it's definitely worth the price. Plus, she regularly holds promotions for new subscribers.
On the other hand, if you just want to watch this beautiful cosplay goddess put her body on display in short yet intense clips, WapTap offers the perfect (and free) alternative.
So, don't be shy. Subscribe to Ms. Bonnie's WapTap profile and get a taste of what makes her one of the top creators around here.
#3 cyberkittyxo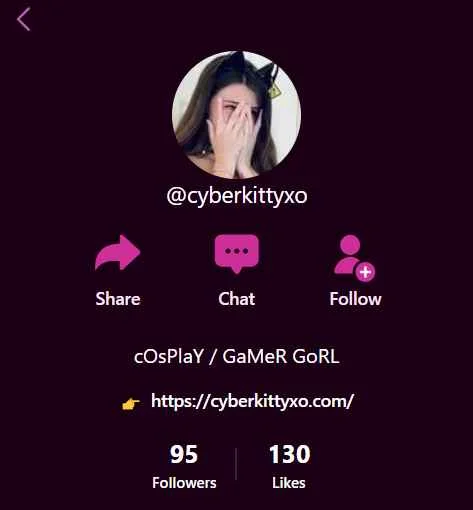 BIO:
Sunny Ray (aka Cyber Kitty) is becoming the internet's favorite cosplayer. Her social media accounts boast millions of followers (mostly male) who just love watching this cosplayer/gamer, influencer babe try her sexy costumes. Lucky for us, she also likes to show a bit more than just her seductive cosplays.
Her OnlyFans page is full of incredible clips and pics that will make a guy's blood pump into the right spots. She's quickly becoming one of the top OF content creators, and we have no doubt that she'll also make WapTap her own one day. How could she not with that stunning body and hypnotizing look?
She's only starting here, but WapTap users can already feast their eyes on her sensual short clips in which she displays her hot cosplays, leaving practically nothing to your imagination. From sexy maid cosplays to comic book, cartoon, and anime characters, little Sunny can do it all. All that is available for free on her WapTap profile.
For more explicit content, though, you'd have to subscribe to her paid OnlyFans page. This is where she offers her full e-girlfriend experience, interacting with her fans and sending them personalized messages and pictures. All that, of course, for the right price. Luckily, she frequently offers special deals and discounts, so if you have a few bucks to spare, giving her a go might be a hell of a ride.
Her free WapTap page is all you need to know more about what she's about, though. Subscribe for free and get your daily dose of sensual cosplays. You won't regret it.
Find More Popular Content Creators on WapTap
While these three gals run the streets now, there are many more WapTap creators who deserve the praise. Browse our platform to find explicit TikTok-style clips and subscribe to performers that make your heart pumping faster!