Good video editing apps are essential if you want to make quality content as a creator. That's a given. They can add an extra creative spark to your videos and make them that much more alluring for viewers and fans.
Since Waptap doesn't offer in-app editing, content creators are encouraged to make videos on their phones and use editing apps to take them to the next level. This way you can add music and filters, create transitions, cut videos to the desired length and screen ratio, etc.
But in the vast sea of online apps, how can you know what's good and what isn't? To help you out, we created this guide on the best Waptap video editing apps for 2023.
1. CapCut

Compatibility: iOS and Android
Pricing: Free
CapCut is a great video app that gives you all the basic features you need to edit your short videos. The fact that it has all the basics you need and comes for free makes it very appealing for beginners and creators with a limited budget.
You can generate automatic captions or add natural-sounding speech with the text-to-speech option. You can remove the background and achieve a "green screen" effect that you can then substitute with any kind of video or image.
However, if you want more advanced features and editing options, CapCut doesn't really cut it – we suggest that you go with another option from this guide.
On the upside, CapCut has a library of more than 500,000 songs and 4,600 stickers. You can use hundreds of filters and tinker with more than 1,000 effects and texts (fonts).
One coming-soon feature is the option to adjust your video size. This option will allow your videos to fit the format of different social platforms. Also, you can adjust the video speed from 0.1x to 100x and apply speed curves.
Pros
It's free! No additional cost to use this app
Quality selection of filters and effects
A very solid music library
Cons
The maximum allowed video length for editing is 15 minutes
Features are pretty much basic and standard
2. Prequel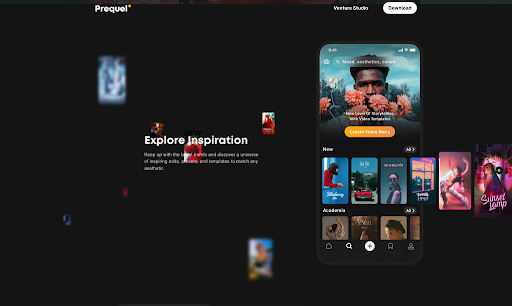 Compatibility: iOS and Android
Pricing: Limited free version; $4.99/week, $17.99/year
Prequel is a charming video editing app that offers exciting features like the ability to create 3D moving pictures and unique animated text stickers and add special intro effects to your videos.
It's similar to CapCut but has a library with a slightly smaller selection of effects, stickers, and music. Overall, it's a pretty solid app with lots of features to help you spice up your videos.
This app works on a freemium principle, meaning you get certain features for free, while the more advanced ones are available through Prequel Gold.
What we like is that it allows you to create templates, which can help you create high-quality, instantly recognizable vids with just one click. There's also an extensive selection of free music, stickers, emojis, gifs, and more than 30 custom fonts.
All of these features are available with the free version of Prequel.
Pros
Unique features like 3D moving pictures and video/picture intros.
Easy to use
Cons
Most of the more advanced and interesting features are available through Premium Gold, aka they're not free.
Some users have complained of app slowness, especially when it comes to the application of filters.
3. Cute Cut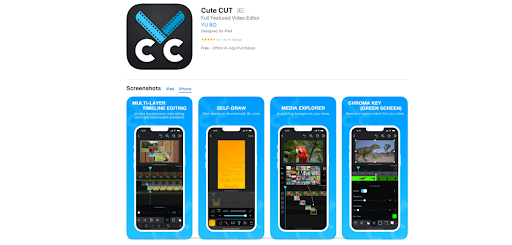 Compatibility: iOS and Android
Pricing: Freemium
CuteCut is another popular video editing app you can use on your iPhone or Android. You can choose between a free and a paid version.
Cute Cut is very easy to use because it has a neat movie organizer and works through drag and drop. It has more than 30 drawing tools and 20 pre-defined, highly customizable transitions.
This app offers support for a whole variety of aspect ratios and resolutions like HD (16:9, 19.5:9, and 21:9), SD (4:3 and 5:4), and SQUARE (1:1) and supports both Portrait and Landscape modes.
With Cute Cut, you can create picture-in-picture videos and resize each segment individually. It supports six different types of media: video, photo, text, music, voice, and drawing.
You can also customize a variety of features, such as sound volume, transparency, corner, shadow, border, etc.
Pros
User-friendly interface
Option to draw directly on pictures and videos
Several tutorials and video walkthroughs you can use to get the hang of the app
Cons
Ads and a watermark in the free version
You have to pay for more advanced features like unlimited video length and a wider variety of music tracks and stickers
4. Adobe Rush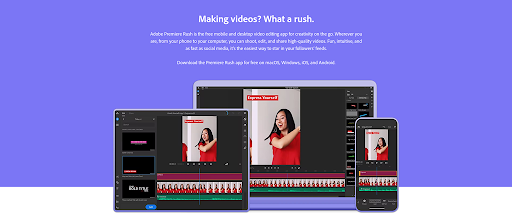 Compatibility: iOS and Android
Pricing: $9.99 per month; a limited free version
Adobe rush is a paid video editing app supported on both PC (Windows and macOS) and mobile devices (Android, iOS). You'd have to pay $9.99 per month to use all its glorious features, although they also offer a limited, free version.
With Adobe Rush, you can easily tailor video transitions to cater to your own creative needs. Since Adobe supports all major formats, you can adjust the aspect ratio of your videos and easily change the speed.
The camera interface gives you the option for automatic or manual shooting, and you can also choose automatic or manual lighting and focus, as well as resolution and frame rate.
Adobe supports the display of 3-4 audio tracks at the same time, making it great for people who really care about the sound and music in their videos. There are also lots of options for tinkering with the titles – you can change their style, motion, duration, and location.
Pros
Has a great interface and is simple to use for beginners
Supported on multiple platforms
Quality tools for making and editing short vids
Cons
Although it supports the major video formats, you can't edit 360-degree VR footage
The free version offers very basic editing and effects.
5. Magisto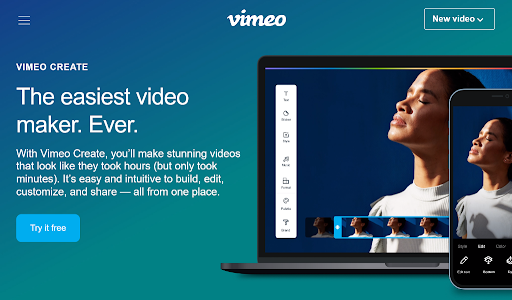 Compatibility: iOS and Android
Pricing: Limited free version; Premium: $4.99/month, Professional:$9.99/month, and Business: $34.99/month.
Magisto is made by Vimeo, the popular video platform. It has everything you need in a video editor, including a cutting-edge AI editor, which edits your videos like a pro. You can later tweak them manually if you want to. You can change the aspect ratio and style and select background music.
With Magisto, you can choose between 2,000 professionally-designed video templates. The Professional version even offers custom logos, colors, messages, and animated graphics. This version also gives you access to millions (yes, you read that right) of iStock photos and videos.
Pros
25 million stock photos on iStock and more than 3 million stock videos you can choose from in the pro version
AI editor that saves you a lot of time when it comes to editing
A vast selection of professional video templates
Cons
The free version features a watermark at the end of the video
The features are more limited in the free version
The paid version is a tad more expensive than other similar products on the market
6. Splice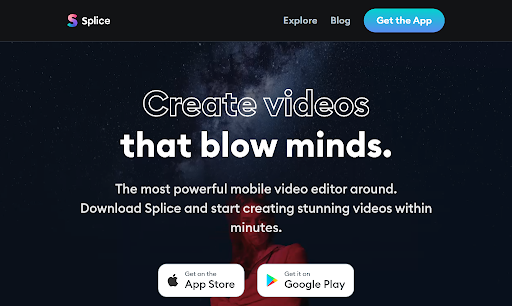 Compatibility: iOS and Android
Pricing: Limited free version, $4.99/week, $9.99/month
Splice is a very powerful video editor made by the folks over at GoPro. It's good for editing both longer and shorter videos and is supported by Android and iOS mobile devices.
This app is free to use, but the caveat is that some of its tools can only be used if you pay for them. So, it's not a 100% free app.
With Splice, you can achieve very smooth video transitions – crossfade, blur, fade to black, swipe across, and much more. There is also a great selection of filters and text overlays to give your videos more shine and allure.
The multi-track audio editing allows you to easily create soundtracks. There is also a great audio library and a large selection of music tracks and sound effects (16 genres and between 9 and 26 tracks in each of them).
Splice is a good choice for a video editing app if you want to use it for both short and long-form videos. It has all you need – from standard video formats to a nice variety of video effects and a solid music library.
Pros
Great audio editing tools
Smooth video transitions
Good selection of filters and text overlays
Cons
Some tools are locked behind a paywall, making the free options more limited
Read: 10 Tips For Making Successful Waptap Videos
Conclusion
We hope this selection of video editing apps will help you choose the one you think best fits the needs of your project but also your own creative expression.
There's a bit of everything here. You'll find apps for beginners on a tight budget looking for easy-to-use apps, as well as more sophisticated subscription-based apps for advanced video creators.
In any case, all video editors offer some sort of free version, so you're free to test all of them before you decide on what's the best fit for you.
And once you find your favorite video editor, you can start uploading your first videos on Waptap!